50cm Terracotta Rhubarb Forcer / Clay Cloche
Product Code : RF1 Barcode : 5021346485554
Black Tag Event, Now On!
Handmade Victorian Design
Brief Description
This attractive Victorian style rhubarb forcer has a traditional terracotta design and was handmade to the finest quality on a potter's wheel. It can be used to force a number of vegetables or simply as a garden decoration.

It stands at 50cm in height with a 32cm base diameter.

All of our pottery items are well packaged to minimise the risk of breakages during delivery.

Please note: The lid may differ in colour to the main body.
Delivery Options
- Available at Checkout
Estimated delivery
Free Delivery
2-3 Working Days
£5
Delivery Tuesday, 12 December
£5
Specified Delivery Date
Product Description
Handmade on Potter's Wheel
Traditional Victorian Design
50cm High x 32cm Wide
Frost resistant (but protect during sub-zero temps)
Well Packaged for Safe Delivery
Attractive and Functional Design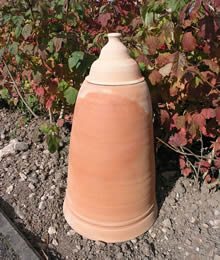 This traditional Victorian rhubarb forcer is perfect for helping your veggies to grow quickly - and tastily! The forcer comes with a removable lid for letting in light or checking on your vegetable's progress. It has been hand made on a potter's wheel to an incredibly high standard, and looks great in any garden.
Dimensions:
Height: 50cm x Base Diameter: 32cm
Weight: 8.5kg
Why Use A Forcer?
Rhubarb is much more palatable when it is forced. This is a simple process which will bring the plant on quickly whilst depriving it of light. When the growing season begins, pop the forcer over your rhubarb and leave for approximately four weeks. A traditional rhubarb forcer, which also will add a touch of rustic charm to your veg patch. The trapped heat will accelerate growth and the lack of light will create slender, tasty stems. If you live in a colder part of the country, this is also a good way to ensure a crop up to a month earlier than usual.
For best results, read our article for
tips on growing rhubarb plants.
Please note: The lid may differ in colour to the main body.
While this product is frost resistant, we would advise storing it away during severe temperature drops as subzero temperatures may cause damage to the clay.
Questions and answers
(2 questions & 2 answers)
Product Reviews
50cm Terracotta Rhubarb Forcer / Clay Cloche
Overall rating 96.5% from 131 reviews