LIFE Timber Aluminium Half Pouffe in Lava / Mouse Grey
Product Code : TIM/HP/YG Barcode : 8719422013391
An additional half pouffe for your existing LIFE Timber aluminium corner set in Lava / Carbon.

Made from aluminium and topped with all-weather cushions, this foot stool can be left outside all through the year.

Comes with a 5 year manufacturer's warranty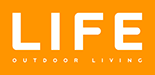 Delivery Options
- Available at Checkout
Free Delivery
Delivered August
Product Description
LIFE Timber Aluminium Half-Pouffe
Sturdy aluminium construction
Topped with all-weather cushion
Low maintenance
Can be left outside all year round
2 year manufacturer's warranty
Put Your Feet Up
This half-pouffe is a fantastic addition to your existing LIFE Timber corner garden furniture set. Whether you want an extra seat or somewhere to put your feet up, this half-pouffe is ideal.

Made from aluminium and topped with one of LIFE's unique all-weather cushions, this sturdy footstool can be left outside all year round and will not rust.

All-Weather Cushions
LIFE cushions have been designed to be kept in place all year round. They are not waterproof but use an innovative design which allows water to pass straight though, rather than being retained inside of the cushion.

This means that they can be left outside without fear of mould, mildew or rot setting in. As well as the micro porous filling, the cushion cases are made from high quality, UV-stabilised, woven textaline material.

Care and Maintenance
Made from aluminium, this half pouffe is practically maintenance free and only requires a small amount of attention to keep it looking its best. It does not need to be covered when not in use, as aluminium is weather resistant.

Although it won't rust, aluminium does oxidise over time which will result in discolouration. To remedy this, the aluminium should be washed with warm soapy water. It is also good to use a gentle acid such as lemon or vinegar - however, alkaline products such as ammonia or soda should never be used to clean your aluminium garden furniture.

Do not use a pressure washer to clean your furniture as it may cause damage and won't be covered under your warranty.

The cushions should be cleaned with warm water and non-foaming soap when required. The cases have zips and can be hand-washed at temperatures of up to 30ºC. This will not affect the All Weather properties of the cushion.

Additional Information
Pouffe Dimensions:
Height 41 x Width 35 x Depth 69cm

Warranty Information:
LIFE aluminium sets and products come with a 5 year warranty against manufacturing faults. The cushions are covered by a 2 year warranty.

Product Reviews
LIFE Timber Aluminium Half Pouffe in Lava / Mouse Grey
Overall rating 100% from 2 reviews