Winawood Sandwick Armchair in Teak
Product Code : WINSANDAC/TEAK Barcode : 5055125886577
Secure with a deposit!
Just A £15 Deposit Required
Brief Description
This single garden armchair is manufactured using the latest techniques combining the appearance of wood and maintenance characteristics of man made items. This beautiful seat can be kept outside and uncovered 365 days a year, looking as good as the day it was purchased.

Dimensions: Length 62.5cm x Depth 60cm x Height 93.5cm
Delivery Options
- Available at Checkout
Free Delivery
Delivered May 2024
Product Description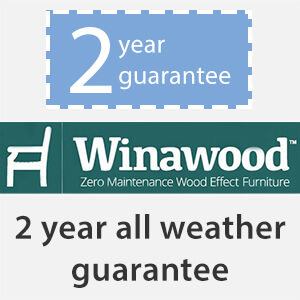 Fully weatherproof
No treatment required
Easy to assemble
UV protected
Wipe clean
Natural grain effect
Fully recyclable
Teak wood finish
Free Delivery
Authentic Stained Wood Effect
Take a garden armchair, add lots of comfort, give it a glaze of authentic wood effect and then make it completely weatherproof and you will have yourself a Winawood armchair. This gorgeous armchair has been made from sturdy hardwearing plastic with a quality wood effect finish. This makes them stunning to look at, comfortable to sit on, and best of all, completely maintenance free.

No more painting, no more staining, no priming. From the moment your bench is assembled, it will be free of any hard work for the duration of its life. If you do wish to give the chair a spruce up, all it takes is a wipe down with some soapy water and it looks good as new.
Warranty
The product includes a 2 year manufacturer's warranty.
This protects the bench against any manufacture defects or weathering caused within the first 24 months of purchase.

Dimensions:
Length 62.5cm x Depth 60cm x Height 93.5cm
Weight: 19kg

The Winawood Brand
Key Features:
Made from 15% Recycled Materials

Fully Recyclable

No Treatment Required

3 Year Warranty

Suitable For All Weather (including frost)

Virtually maintenance free. Just clean with water to restore to its original appearance

UV resistant (won't fade over time)

Protected against distorting & warping

Easily assembled


Just like real wood, the colour runs all the way through the bench as it is encased in the polymer material. You can sand layers off and still have the same, great colour underneath. Each bench comes with a small sanding block for easy maintenance as well as a 3 year manufacturer guarantee.
Made from new and recycled polymer materials, they are very low maintenance and will last year on year. They also use the latest manufacturing techniques to be able to provide a natural wood grain effect to all their products, making the wood look more effective.
It's protected against warping and distorting as well as being suitable for all weather. This means that it can be left outside, even in snow and frost, without worry that it will get damaged. Constant sun exposure won't fade the colour as it's UV resistant.
Product Reviews
Winawood Sandwick Armchair in Teak
Overall rating 100% from 7 reviews