WILDLIFE CARE PRODUCTS TO PROTECT WILDLIFE IN YOUR GARDEN
Are you planning to turn your garden into a wildlife haven, if so then we are ready to help. At garden4less.co.uk you can find a large range of insect houses, mammal houses, wild bird care products and seeds & feeds for birds, hedgehogs and many other varieties of British wildlife that you can attract to your garden.

By buying online at garden4less.co.uk you can save money, get a greater selection of products and have them delivered direct to your door anywhere in the UK.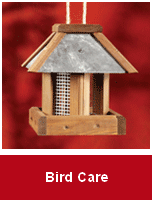 Bird Feed & Feeders
Attracting wildbirds to your garden is rewarding in many ways, not only are you helping maintain the British wildbird population but you also get many hours of enjoyment from watching their antics in the garden and spotting new birds that you hadn't noticed visiting.

We have many quality low priced staple foods for your garden birds, but if you want to really get the wildbirds excited we have live foods including mealworms and waxworms. We also have high energy fatty foods such as fat balls and suet treats with berries, nuts and insects.
At garden4less.co.uk we have spent time selecting the best bird tables and feeders for your garden. Take a look at our high quality but affordable slate roofed tables and feeders.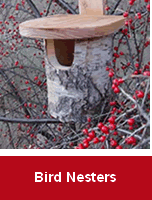 Bird Boxes
Whether you are looking to attract specific birds to nest in your garden or you want to make a cosy home for any homeless bird in your garden we have the nest box for you. Take a look at our robin nest box and tit box made from natural silver birch or our sparrow / starling nestbox made from solid FSC timber or spy on your nesting bird using a cam box.
The cam box, as seen on BBC gardeners world Live, is a special wooden nesting box that has a built in camera that can be attached directly to a television or video.
With each nesting box we will send out instructions on how to position the bird box correctly so that it is protected from predators and how to maintain the bird box both prior to birds arrival and after the roosting birds have fled.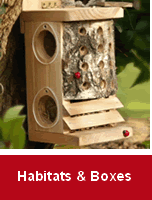 Mammal Habitats & Insect Boxes
The majority of our insect and mammal boxes have been designed and manufactured by Wildlife World. They are made in the heart of the English countryside and are mainly made from sustainable natural materials. Any insect or mammal would be proud to live in one of these extremely attractive boxes.
We have quality houses to suit bats, hedgehogs, frogs, toads and squirrels.