Garden Watering Timers: Features and Benefits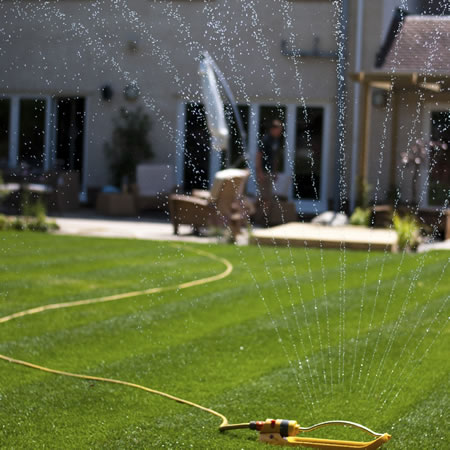 Installing a watering timer for your garden can be a great investment and solution for making sure your plants are looked after. There are a wide range of timers available and deciding which is best for you will depend on what you need the timer for.


Entry Level Timers
Some of the most common reasons for buying a watering timer are:
- Being able to keep plants and vegetables well watered while on holiday.
- Watering a garden on a daily basis.
- Watering a greenhouse.

If one or more of these reasons completely covers your needs, then a simple entry level Hozelock should be suitable. The Hozelock can be made to activate at sunrise, sunset, or both, as these are the optimum times for watering plants and lawns. You can also choose the duration of time that you would like the water to be released, selecting from 2, 5, 10, 20, 30 or 60 minutes.

The timer can be connected to a number of attachments, some include:
- Garden sprinklers; for watering a lawn or garden.
- Automatic watering systems; recommended for greenhouses and gardens.
- Soaker hoses; A leaky hose that can be used for various watering tasks.
- Sprinkler hoses; A length of hose which acts like a sprinkler for watering long narrow areas.

Click here for more information about the Hozelock.


When To Consider A Professional Timer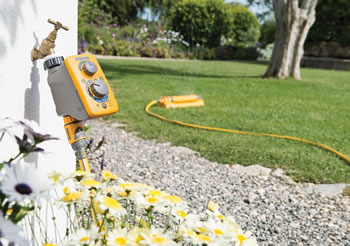 Sometimes, additional functions may be required for your garden or personal needs. This may not be something you think of until you are using the timer, but by then often it is too late. It is worth considering some of the functions below and how they may be of benefit to you before deciding on your purchase.

- Solar powered - great for if you're away on holiday!
- Ability to connect a rainwater sensor to ensure your garden isn't overwatered.
- Control via mobile apps on Apple or Android phones and tablets.
- Flexibility and control over the duration of time and how often your garden is watered.
- Additional outputs to control two systems at different times.
- Adjustable water pressure settings.
- Digital Display.

If one or more of these would be useful to you, it could be worth considering a more versatile timer.
There are a number of options available. For help choosing, speak to a

garden

4less

expert who will be able to assist you.


Using a Watering Timer For a Water Butt
If you want to attach a watering timer to a water butt then you need to ensure that it will work on low pressure, many timers need pressure in order to control the valve. We state on our timers if they will work on low pressure so you can be sure you are buying the model that will operate. If you are unsure then call us on 01283 543974.

If you are using a water butt pump then watering timers are not an option. This is because watering timers simply open and close a valve to either block the water from passing or allow water through the timer. This is good if you are using a tap but it wouldn't work with a water butt pump unless the pump was running permanently, which would be costly, noisy and would eventually burn the pump out. Instead we recommend putting an electrical timer on the power supply powering the pump.
Ask a

garden

4less

expert about electrical timers.


Winter Watering Timers
We strongly recommend disconnecting and draining your watering timer during temperatures below freezing. If water freezes inside the device, the water will expand and crack the unit. This is not covered under your warranty.


Indoor Use
Hozelock watering timers are not recommended for watering indoor plants, especially while you are away. However, other devices are available to serve this purpose.
For more information about indoor watering systems, click here.
Like This Article? Why not Share or Tweet about it.