Hozelock 4 Way Tap Connector - 2150
Product Code : 2150 Barcode : 5010646021876
Includes 2 Free Hose End Connectors
Allows the water supply to be divided up into four outlets including up to two with electronic timers.

This is especially useful where you want to install a watering system but also want to use the exterior tap for other uses or would like to run multiple watering systems off one tap.

Delivery Options
- Available at Checkout
Estimated delivery
£2.75
2-7 Working Days
Product Description
Control up to four separate connections
Separate control valve for each tap
Wall mount and fixings included
Next day delivery available
Convenience at your fingertips!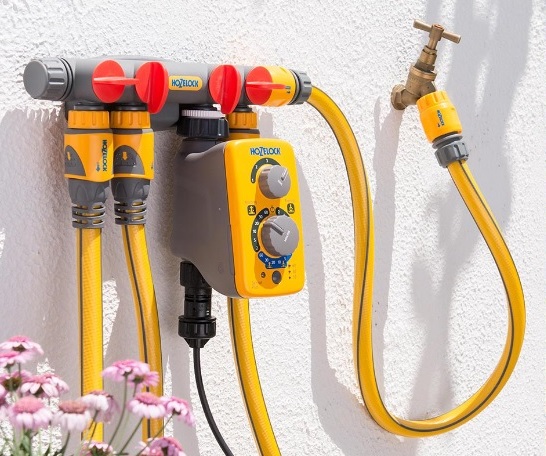 The 4 way tap connector lets you convert a single tap into four individual outlets, each with a separate flow control valve allowing you to pick and choose which outlets you require to be active and when. The connector can be used with all existing Hozelock products using the simple Hozelock connect system.
Each tap has been spaced perfectly to allow anything from small hose connectors to large water timers. Controllers are easily attached using the threaded adaptors with which they are supplied, so there is no need to buy additional components.
A wall bracket is included with the kit, as well as all the screws and plugs required for installation. Two hose end connectors are also supplied.
Product Reviews
Hozelock 4 Way Tap Connector - 2150
Overall rating 87.2% from 105 reviews