Hozelock Micro Irrigation 10m Micro Tube (4mm) - 2772
Product Code : 2772-2732 Barcode : 5010646040303
Hozelock Micro Tube is designed to connect the drippers, sprinklers and misters to the main supply hose.

Delivery Options
- Available at Checkout
Estimated delivery
£2.75
2-7 Working Days
Product Description
10m of premium tubing
UV stabilised for extra protection
2 year warranty
Can be concealed under soil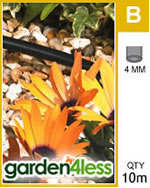 Premium Quality Irrigation Tubing
This 4mm supply tube is used as part of a Hozelock irrigation set up to distribute water around a garden, patio or greenhouse. The 13mm tubing (sold separately) carries the main flow of water before these smaller 4mm tubes filter off to feed plants and flowers by connecting to drippers and sprayers.
Made from black PVC, the tube is UV stable and weatherproof, allowing it to be left in sunlight or, if desired, it can be concealed with a layer of soil or compost.
Warranty
The irrigation tubes come with a 2 year manufacturer's warranty included. To activate, you will need to register your purchase online at www.hozelock.co.uk
Product Reviews
Hozelock Micro Irrigation 10m Micro Tube (4mm) - 2772
Overall rating 94.5% from 94 reviews