Hozelock Auto Reel 40m - 2595
Product Code : 2595 Barcode : 5010646053082
Rated Our No.1 Watering Product
The Hozelock Auto Reel is without a doubt one of the best hoses available on the market. The innovative unit gets rid of the troublesome task of winding up lengths of hose, and makes easy work by automatically reeling it in for you.

The hose can be locked into place while in use, so you don't have to fight against the winding mechanism while using it. An automatic brake is also included to stop the hose from retracting too quickly.

5 year manufacturer's warranty included

Special Offers
Accessories
Universal Hozelock Hose Guide - 2392

£14.19

ADD

Hozelock UltraMax Robust Multi Pro Spray Gun

£50.99

£36.85

OUT OF STOCK

Hozelock Metal Rose Head Spray Gun - 2691

£36.39

£24.99

OUT OF STOCK
Product Description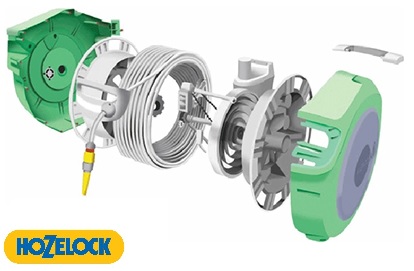 40m of premium anti-kink hose
2m feeder hose to connect to the tap
Spray nozzle with variable spray options
Wall bracket and fixings
Automatic brake for controlled pipe retraction
Best-Selling Watering Product
You only have to read the customer reviews for this item to realise just how fantastic the Hozelock Auto Reel is.
If you're fed up with having the hassle of winding hose back onto a reel, if you're sick of tripping up on hose that is tangled up on the floor, if your hose is constantly getting kinked or knotted, then this reel is the answer to your woes.
Features and Benefits
The 40m Auto Reel is the longest spring loaded hose system available from Hozelock.

It is best known for its innovative ability to easily let out the perfect length of hose with minimal effort, and then automatically retracting it when you're done. Complete with Hozelock's anti-kink hose, the patented design means the pipe will coil itself back neatly, without tangling or knotting, and a built in automatic brake means it will not retract too quickly causing damage or injury.

The Auto Reel has a hinged wall mount which easily pivots up to 180º to allow easy access to all areas of the garden, and gives the ability to fold the reel against the wall when not in use. A child lock and padlock function and also included, and an easy removal system allows the reel to be taken off the wall bracket for storage during winter months to prevent it from freezing.

Also included:

Water Stop
Connector

Hose End
Connector

Tap
Connector

Hose
Nozzle
User Instruction Manual
Lost your manual? Download a digital copy here!
Dimensions
Unit Height: 53.5cm
Unit Width: 25.5cm
Length from wall when in use: 76cm
Length from wall when folded: 30cm
Warranty
The Hozelock Auto Reel comes with a 5 year manufacturer's warranty included. For this to apply, you must register your purchase at Hozelock's Warranty page.

Questions and answers
(3 questions & 3 answers)
Product Reviews
Hozelock Auto Reel 40m - 2595
Overall rating 96.9% from 870 reviews