Hartman Amalfi 8 Seater Rectangular Set, Maize Taupe
Product Code : AMREC-MT Barcode : 8711268519396
Perfect for large outdoor spaces the Amalfi 8 seater proves that bigger is better! The table and chair set is the largest dining set in the Amalfi range and it looks absolutely stunning. The table measures a sizable 2.1m length by a 1.1m width. The eight included chairs sit nice and snug around the table under a 3m wide parasol for shade on those extra hot days.

The set makes up part of the Hartman Amalfi range, and has been given a bronzed coating and caramel coloured weather ready cushions to match the rest of the series. The dining table looks great alone or can be paired with other items from the series for a consistent theme.

The full Amalfi Range is available to view here!

2 year manufacturer's warranty included.
Delivery Options
- Available at Checkout
Estimated delivery
Free Delivery
1 - 3 Working Days
Product Description
Strong and Durable, yet lightweight
Virtually maintenance free and will not rust
Weather Ready Cushions
Ruggedness of cast aluminium complemented by soft luxury cushions in a floral design
2 year manufacturers warranty
Sturdy and Stylish
This whopping Amalfi rectangular set is spacious enough to seat eight people comfortably for a barbecue, garden party or simply for chilling in the garden. Ergonomically designed by Hartman furniture, the dining set has been made with the user in mind. It's lightweight, low maintenance, rustproof and of course, comfortable!
Strong and Lightweight
The entire Amalfi set has been produced using cast aluminium. This has several benefits to the user, as it is not only sturdy and strong, but it is also light. The aluminium design also means that the table and chairs are completely rustproof, meaning you can leave them out all year long without any worries.
Weatherready Cushions
This Hartman garden furniture set comes complete with innovative Weatherready cushions. Manufactured using special microfibre all-weather fabric, these cushions will repel water during light showers, and let water flow straight through them in heavier downpours.

They utilise a clever system of perforated material wrapped around rapid-dry foam, allowing water to permeate through the cushion and then dry naturally - no harm done. As well as being stylish and comfortable, these cushions are also moisture, mildew and UV resistant. They can be stored outside all year round, ready to be used quickly and conveniently, as and when they're needed.

Your Set, Your Way
We will always do our best to accommodate your requests so if you would like to tweak this set to suit your needs then we always do our best. We often add extra chairs into sets where we have them available and we are equally happy to remove chairs where less are needed. With sets that include a parasol and base, we can also take these away and discount the set if they are not required.
What's Included?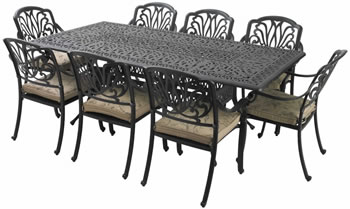 A set of eight bronze aluminum chairs, each with a contemporary design crafted into the back. The chairs come premade for your convenience and are lightweight. The table requires some simple assembly and the instructions, bolts and fixings needed are included.
One of the key features that adds a real wow factor to the set is the large 3m parasol that offers shade and shelter when needed. The parasol comes in a warming cream colour, and this is complemented by the cream and floral patterned cushions that are included with the chairs.
Care Instructions
The Amalfi cushion sets can be machine washed at just 30º. Simply plump them back into shape while they are still wet and leave them to dry.
The aluminium furnishings can also be cleaned simply with some warm soapy water, rinsed down lightly with a garden hose.
NOTE:
Do not use a pressure washer on your furniture as this can damage the bronze weather ready coating and this is not covered by your warranty.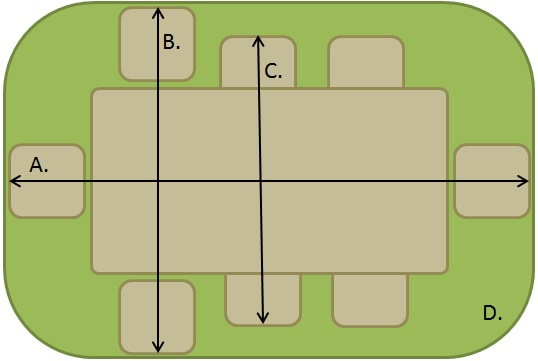 Dimensions:
See Diagram left.

A. -
Full length chairs under: 3.5 metres approx.
A*. -
Full length chairs out: 4 metres approx.
B. -
Width with chairs out: 2.9 metres
C. -
Width with chairs under: 2.4 metres
D. -
Recommended area needed: 4 x 3 metres.
Table:
Height 74cm x Width 214cm x Depth 112cm
Armchair:
Height 92cm x Width 63cm x Depth 67cm