Fiskars X27 Antishock Log Splitting Axe (XL)
Product Code : 122503 Barcode : 6411501225030
Updated Design For The Perfect Swing
Our best-selling axe just got even better.

The Fiskars X-series axes have always been at the pinnacle of wood-cutting tasks, and the X27 is a true testament to what a great tool should be.

With updated grip technology and a antifriction coating on the blade, the X27 is sure to be the right axe for all your chopping and splitting needs.

25 year manufacturer's warranty included.
Delivery Options
- Available at Checkout
Estimated delivery
Free Delivery
2-7 Working Days
Product Description

Optimal anti shock surface structure ensures a comfortable, firm grip


Hooked end of the handle prevents slipping


With plastic sheath for easy carrying and storage

Total Weight: 2850g
Total Length: 960mm


Maximum Power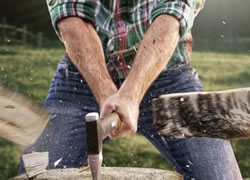 The X27 has been especially designed to utilise every bit of force that you put into a swing. The handle had been perfectly designed to be lightweight, while the weight of the head increases speed and drives the axe downward, doing all the hard work for you.
The weight ratio means that you can swing for longer without becoming tired while still maintaining a powerful and well-aimed strike on every cut.
Minimum Vibration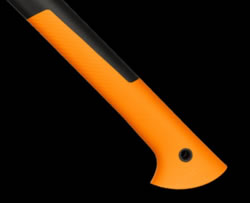 The handle itself also features a vibration absorbing chamber which pretty much does what it says; reduces vibration during use.
This dramatically reduces the likelihood of incurring injuries or effects such as Hand/Arm Vibration Syndrome or lateral epicondylitis, commonly known as 'tennis elbow'.
Optimal Blade Design
With a steel forged blade at the helm, there are few types of wood that will withstand a blow from the X27.
The impressive design has been purpose-made to stay sharper for longer than conventional axes and an anti-friction coating helps the blade slice through wood with ease without getting stuck.
25 Year Manufacturer's Warranty
The entire Fiskars X-Series has been purposely designed, tried and tested to produce a product that is almost impossible to break. The handle is made from a super-strong 'fibre comp' material which is lighter and stronger than steel, and Fiskars are so sure of their designs, they give every axe a 25-year warranty. This can be registered online the day your axe is received.
Product Reviews
Fiskars X27 Antishock Log Splitting Axe (XL)
Overall rating 98.3% from 71 reviews