LIFE Diva Weave Recliner Furniture Set in Yacht Grey/Carbon
Product Code : DIVA/RECL/YGC
Create somewhere comfortable to relax in your garden or conservatory with the LIFE Diva Recliner Furniture Set. It consists of two reclining chairs with built-in padded footstool and a glass-top side table.

This furniture set is robust and can be left out all year round thanks to its synthetic resin weave, aluminium frame and all-weather cushions.

Comes with a 2 year manufacturer's warranty
Delivery Options
- Available at Checkout
Estimated delivery
Free Delivery
1 - 3 Working Days
£3.25
Delivery Tuesday, 18 June
Order before 16:00 Monday!
£3.25
Specified Delivery Date
Product Description
LIFE Diva Recliner Set
Weather-resistant hand-woven synthetic resin weave
Durable aluminium frame
All-weather cushions
Reclining chair with padded footstool
Toughened glass top on side table
2 year manufacturer's warranty
Unwind and Relax
Add the LIFE Diva Recliner Furniture Set to your garden, decking or conservatory and transform your space into somewhere that you will love to spend time in after a long day. It consists of two reclining armchairs with integrated patted footstool and a matching glass-top side table.

This outdoor furniture set is made from hard-wearing synthetic resin weave that is hand-woven on to an aluminium frame which is rustproof, lightweight and sturdy. This set can be left out all year round and has all-weather cushions which can be left in place in any weather.

Cleaning and Maintenance
Thanks to the resin weave and showerproof cushions, the set requires minimal maintenance. However, should you wish to spruce up the set, you can easily do this with some warm soapy water and a sponge or brush. Once clean, lightly hose off the wicker and allow to dry.
NOTE: Do not use a pressure or jet washer on this furniture as it may cause damage which is not covered by your warranty
Additional Information
Contents:
- 2x LIFE Diva recliner chairs and cushions - 1x LIFE Diva high coffee table
Dimensions:
Chairs: (Height) 108cm x (Depth) 91cm x (Width) 78cm
Table: (Height) 43cm x (Depth) 60cm x (Width) 60cm
More Information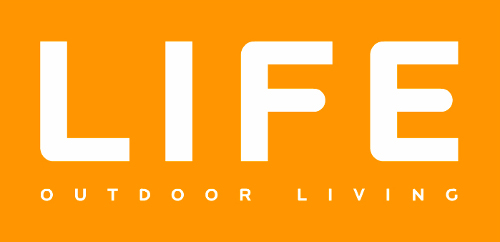 LIFE is a combination of market leading engineering, luxury and originality. Inspiring and practical.

Research development and forward thinking have brought this product to market. Designed by passionate technical engineers with a thirst for creativity, quality and clear innovation.

Absolutely no compromise on quality - from the materials used the build and finish.