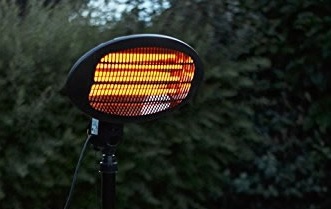 Entertaining outdoors is a favourite pastime for most of us, but sooner or later, that Great British nip of cold weather always kicks in.

Patio heaters keep the party going, giving off light and most importantly, a warming glow that will keep you and your guests feeling nice and toasty. The heaters are hanging, wall mountable, feature in firepit tables, or are available in free standing varieties should you wish to move them around or put them away for storage. Treat your garden and your guests to a warming patio heater today.

Speak with a

Garden

4Less

expert today about our range of patio heaters.


Black Tag Price!


In Stock Now!

Black Tag Price!


In Stock Now!

Black Tag Price!


In Stock Now!

Black Tag Price!


In Stock Now!

Black Tag Price!


In Stock Now!

Black Tag Price!


In Stock Now!

Black Tag Price!


In Stock Now!

Black Tag Price!


In Stock Now!

Black Tag Price!


In Stock Now!

Black Tag Price!


Quick, there's only 3 left!

Black Tag Price!


In Stock Now!

Quick, there's only 3 left!

Black Tag Price!


In Stock Now!

Quick, there's only 2 left!

Black Tag Price!


In Stock Now!

Quick, there's only 1 left!

Black Tag Price!


In Stock Now!

Black Tag Price!


In Stock Now!

Quick, there's only 10 left!

Quick, there's only 3 left!

Quick, there's only 1 left!

Quick, there's only 2 left!

Quick, there's only 1 left!

Quick, there's only 2 left!

Quick, there's only 2 left!

Quick, there's only 2 left!

Black Tag Price!


In Stock Now!

Black Tag Price!


In Stock Now!

Black Tag Price!


In Stock Now!

LOAD MORE PRODUCTS