Hozelock Flower and Vegetable Self Watering Tray - 2811
Product Code : 2811 Barcode : 5010646055222
Black Friday Event!
The easiest way to grow plants on your garden patio. The Flower and Vegetable Self Watering Tray features a decorative 30 litre planter with 15 litre reservoir that will keep plants watered for up to 14 days.

Water is delivered directly to the plants roots through unique capillary watering spikes that help prevent plants from drought and minimise water wastage.

Dimensions: Length 96.3 cm x Width 36.3 cm x Height 13 cm

Delivery Options
- Available at Checkout
Estimated delivery
Free Delivery
1 - 3 Working Days
£3.25
Delivery Monday, 17 December
Order before 16:00 Monday!
£3.25
Specified Delivery Date
Special Offers
Replacement matting strips
Replacement Capillary Matting Strips for Hozelock Self Watering Trays

£6.89 Garden4Less:

£3.89

£3.39

ADD

View Product
Product Description
The easiest way to grow plants on your garden patio. The Flower and Vegetable Self Watering Tray features a decorative 30 litre planter with 15 litre reservoir that will keep plants watered for up to 14 days.

Water is delivered directly to the plants roots through unique capillary watering spikes that help prevent plants from drought and minimise water wastage.

Features:
Waters plants for up to 14 days
Healthier plants & better results
Easy to set-up and re-useable
1. 30 litre decorative planter ideal for flowers, vegetables,herbs and fruit
2.15 litre water reservoir saves plants from drought while away from home
3.Watering spikes keep plants constantly watered
4.Convenient indicator to monitor water level and base can be filled using watering can or hose pipe connector
5.Includes cane holders to provide solid base for plant support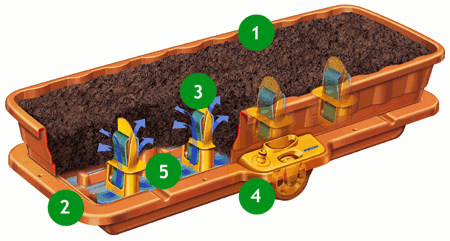 Dimensions: Length 96.3 cm x Width 36.3 cm x Height 13 cm

Product Reviews
Hozelock Flower and Vegetable Self Watering Tray - 2811
Overall rating 80% from 1 reviews
This page belongs to:
Hozelock Flower and Vegetable Self Watering Tray - 2811