Hozelock Easy Drip Universal Watering Kit
Product Code : 7023-0000 Barcode : 5010646057929
Complete watering kit for up to 10m²
Hozelock have developed this innovative new mini sprinkler system for watering up to 10m² (107ft²) This easy to fit and expand system is compatible with other Hozelock micro irrigation components and is easily adaptable for most watering needs.

Multiple kits can be added to expand the system or it can be expanded by simply adding components as you need to.

Delivery Options
- Available at Checkout
Estimated delivery
Free Delivery
2-7 Working Days
Product Description
Easy to adapt, control and extend.
Modular kit to allow to easily grow your system.
Simple to build from scratch or to add to an existing system.
Easily water your borders, hedges and vegetable gardens saving you time, effort and water
Combine with any water controller for Automatic Watering
Compatible with existing Hozelock and third party Drippers and accessories
The Universal Kit provides a great solution to watering borders, hedges and vegetable gardens, saving you time, effort and water. All the necessary components are included to effectively water up to 10m² of garden in one easy to use kit.


Easy to Install
The select number of components included within the kit, ensure that the system is quick and simple to set-up.



The Flexi Hose carries water from your tap to the Universal Drippers that can be positioned around your garden. The flexibility of the hose makes installation a breeze; plus the hose can be easily cut to create a layout tailored to your garden.

The cleverly engineered Universal Drippers can be easily connected to the Flexi Hose and are designed to deliver water from 0 to 40 litres per hour to the surrounding area

The kit comes with 10 drippers, each capable of watering up to 100cm in diameter therefore providing extensive coverage.


Modular
The kits are modular in design, which means that if you have a larger space to water you can easily combine a number of Universal Kits to create a larger system.

CompatibleClever design ensures that the Easy Drip range can be used to expand your current set-up or create a new system from scratch. So whether you have an existing Hozelock or 3rd party system, you can still enjoy the benefits that Easy Drip has to offer


Additional Information
Kit Contains
>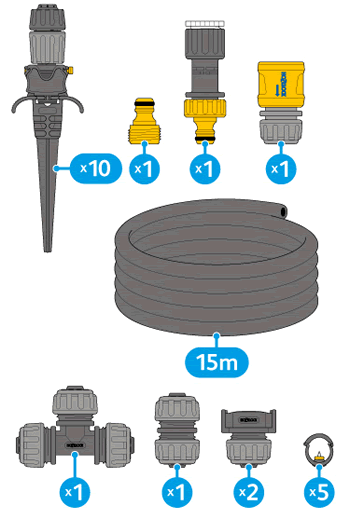 Pressure regulator
15m of 13mm Flexi Pipe
10 x Universal Drippers
5 x Sealing Clips
2 x End Plugs
1 x Straight Connector
1 x T Piece
Guarantee
For peace of mind the Universal Kit comes complete with a 2 year guarantee.
Which Kit Is Right For My Garden?
Not sure which of Hozelock's automatic watering kits is the best fit for your garden?

Watch our video which takes a closer look at each one here:


Product Reviews
Hozelock Easy Drip Universal Watering Kit
Overall rating 75% from 8 reviews